IN OUR HANDS: Newcomer Co-operative Business Program
Are you a newcomer with a business idea you'd like to develop?
In Our Hands is a free program designed to support you through all the stages of starting and growing a co-operative business.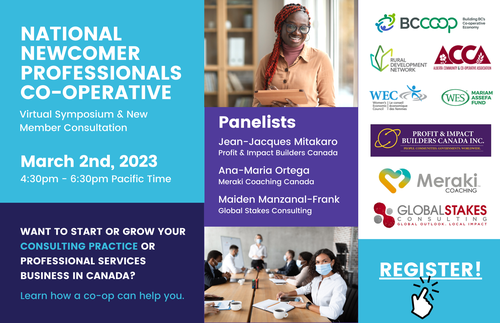 (To register, see the link below)
In Our Hands at a Glance:
Available in multiple languages
Free to participate + business financing available
Online, self-paced learning combined with team-based collaboration, 1-2 hours per week
Mentorship and business support provided throughout all the stages of your co-op's development
The In Our Hands Program is hosting a virtual symposium on March 2nd (4:30-6:30pm Pacific Time; 5:30-7:30pm Mountain Time) for newcomer professionals to explore the opportunity of creating a National Newcomer Professionals Co-operative (NNPC) that would support people in starting and growing their consulting practice or professional services business in Canada. This symposium will be an opportunity for newcomer professionals across Canada to come together to:
hear from experienced professionals;
share their own stories and experiences;
discuss common challenges;
identify co-operative solutions; and
provide input into the design and setup of NNPC.


If you are interested, REGISTER today to join the virtual symposium and learn more about the program.


In Our Hands is a partnership project between BC Co-operative Association (BCCA), Alberta Community & Co-operative Association (ACCA), Rural Development Network (RDN) and Women's Economic Council (WEC). The project is made possible with funding from the World Education Services (WES) Mariam Assefa Fund.